The Nuclear and Radiation Safety Center (NRSC) pays much attention to work quality and is focused to implement a process-oriented quality management system in line with the requirements of ISO 9001:2008 standard.The NRSC received its ISO 9001:2008 certification in December 2010, and was re-certified in 2013. The quality management system of the NRSC organizes the work and all work related documentations. It ensures customers satisfaction and the adherence of working results to the specified standards and company objectives.
In accordance with the ISO 9001:2008 standard's requirements the following business processes were specified:
Management Processes,
Core Processes, and
Supporting Processes.
The processes description is presented in the NRSC's Quality Management Program.
---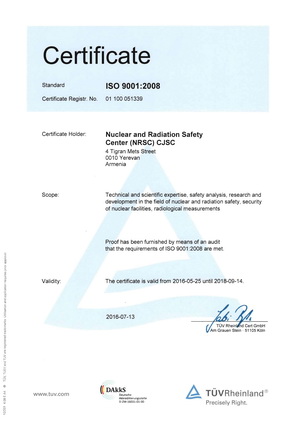 ---
NRSC Mission
The main purpose of the NRSC's establishment was to provide technical support to the Armenian Nuclear Regulatory Authority (ANRA).
The NRSC is specialized in the following:
Expertise in the field of nuclear and radiation safety.
Safety assessment and analysis.
Radiological measurements.
Research and development activities.
Development of software tools.
The following mission and vision statements describe the fundamental beliefs and define the specific aims and strategies of the NRSC.
Vision
To be the leading technical support and scientific research organization in the field of nuclear and radiation safety in the Caucasus.
Mission
To provide technical support to the regulatory authority and enhance expertise in the field of nuclear and radiation safety to protect people, property and environment.
Objectives
Further development and enhancement of the nuclear safety level, radiation and environmental protection.
Assurance of qualified experts and project management competence.
Assurance of cost effectiveness.
Enhancement and implementation of QM improvement.
Strategies
Co-establishing state of the art in the nuclear and radiation safety research and environmental studies.
Co-establishing safety rules and regulations; co-establishing safety assessment and analysis.
Enhancement of project management competence; establishing and implementation of personnel development plan.
Efficient and effective use of all resources; budget fulfilment.
Facilitate QM improvement.
---